Rewatch the concert in our Video Library, or hear it again, in our Listening Room!
The livestream series continues on November 14, 2020 from The Church of St. John the Divine with "Oceans", a nature-inspired program featuring the orchestra—conductorless! Celebrating Beethoven's 250th birthday, the concert will feature the U.S. premiere of a new work by Anna Clyne for strings, Stride. Rounding out the program are two classics—Beethoven's Quintet for Piano and Winds, Op. 16, and Debussy's paean to the sea, La Mer—as well as Coleridge-Taylor's Nonet and Bolcom's Ghost Rags.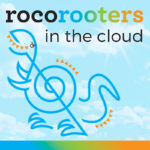 ROCOrooters In The Cloud is available in conjunction with all of ROCO's In Concert and Unchambered performances during the 2020-2021 season. The program includes free, downloadable materials so the whole family can enjoy the concerts together, and an interactive follow-up is presented each following Saturday. Click HERE for more info.
Download the ROCOrooters materials for this concert, and listen to the book Zin! Zin! Zin! A Violin to get to know the instruments of the orchestra!
PROGRAM
Anna Clyne: Stride
Ludwig van Beethoven: Quintet for Piano and Winds, Op. 16
Samuel Coleridge-Taylor: Nonet
William Bolcom: Ghost Rags, I. Poltergeist
Claude Debussy: La Mer (arr. by Marlijn Helder)
Concert Run Time:
1 Hour
Concert date and time are subject to change.
Artists and programs subject to change. Learn more about our COVID-19 response HERE.