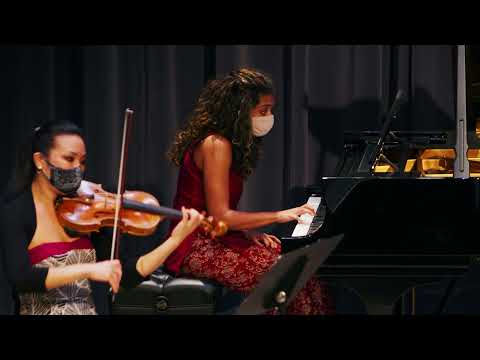 Composer :
Bohuslav Martinů
ROCO's Connections series continued March 11 with "Journey to America", livestreamed in partnership with Holocaust Museum Houston, including chamber works by Bohuslav Martinů, Tom Hinck, and Milad Yousufi.
Martinů's Quartet for Oboe, Violin, Cello, and Piano, written in 1947 during his years in America, pays tribute to Mozart, with its Neoclassical style and graceful charm.
Listen for the lilting motion in triple meter, and simple tonality of the melody, which embody the elements of Czech folk song appearing throughout Martinů's career.
In the composer's words: "I am always more myself in pure chamber music. I cannot express what pleasure it gives me when I start work and begin to handle four instrumental parts. In a quartet one feels at home. Outside it may be raining and darkness is falling but these four voices take no heed. They are independent, free to do what they like, free to create a unity, a new harmonious note."
Featuring musicians Alecia Lawyer, oboe; Maureen Nelson, violin; Courtenay Vandiver Pereira, cello; and Chelsea De Souza, piano.