On February 27, 2021 ROCO will explore the interplay of light and dark in "Shadows", built around a commission by Alyssa Morris, Tlapalli Tlahuilli – based on the children's book "Musicians of the Sun" and featuring ROCO's principal winds as soloists. Led by conductor Ward Stare in his ROCO debut, the livestream also features Patrick Harlin's Shadow Dancer, Haydn's Symphony No. 101, "The Clock", and concertmaster Scott St. John in Luigi Dallapiccola's Baroque-inspired work, Tartiniana Seconda.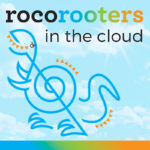 ROCOrooters In The Cloud is available in conjunction with all of ROCO's In Concert and Unchambered performances during the 2020-2021 season. The program includes free, downloadable materials so the whole family can enjoy the concerts together, and an interactive follow-up is presented each following Saturday. Click HERE for more info.
PROGRAM
Morris: Tlapalli Tlahuili
Dallapiccola: Tartiniana Seconda, 1957 version for violin and orchestra
Haydn: Symphony No. 101 in D major, Hob I:101, "The Clock"
Harlin: Shadow Dancer
Concert Run Time:
1 Hour
Concert date and time are subject to change.
Artists and programs subject to change. Learn more about our COVID-19 response HERE. 
Add to Calendar
02/27/2021 5:00 pm
02/27/2021 7:00 pm
America/Bahia_Banderas
ROCO In Concert: Shadows
On February 27, 2021 ROCO will explore the interplay of light and dark in "Shadows", built around a commission by Alyssa Morris, Tlapalli Tlahuilli – based on the children's book "Musicians of the Sun" and featuring ROCO's principal winds as soloists. Led by conductor Ward Stare in his ROCO debut, the livestream also features Patrick…
ROCO Houston
[email protected]
MM/DD/YYYY