Rewatch the concert livestream at Facebook or at YouTube!
ROCO's musician-curated Unchambered series concludes with the ROCO Brass Quintet, streaming live from MATCH (Midtown Arts & Theater Center Houston).
Presenting contemporary works for brass, the program ranges from Joan Tower's "Copperwave" and Jonathan Bailey Holland's "Introit," to Robert Dennis's "Blackbird Variations", a work based on the poem "Thirteen Ways of Looking at a Blackbird" by Wallace Stevens, and an arrangement of the Beatles' "Blackbird" by Seb Skelly.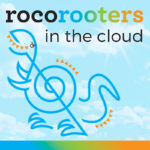 ROCOrooters In The Cloud is available in conjunction with all of ROCO's In Concert and Unchambered performances during the 2020-2021 season. The program includes free, downloadable learning activities so the whole family can enjoy the concerts together. Click HERE for more info.
Download the ROCOrooters materials for this concert, prepared by music teacher Keisha Twitchell!
ARTISTS
ROCO Brass Quintet
George Chase, trumpet
Jason Adams, trumpet
Gavin Reed, horn
John Romero, trombone
Steve Curtis, tuba
PROGRAM
Jonathan Bailey Holland, Introit
Joan Tower, Copperwave
Robert Dennis, Blackbird Variations
John Lennon and Paul McCartney, Blackbird
Fats Waller, Black and Blue
Bix Beiderbecke (arr. Jason Adams), In a Mist, Flashes, In the Dark
Concert date and time are subject to change.
Artists and programs subject to change. Learn more about our COVID-19 response HERE.