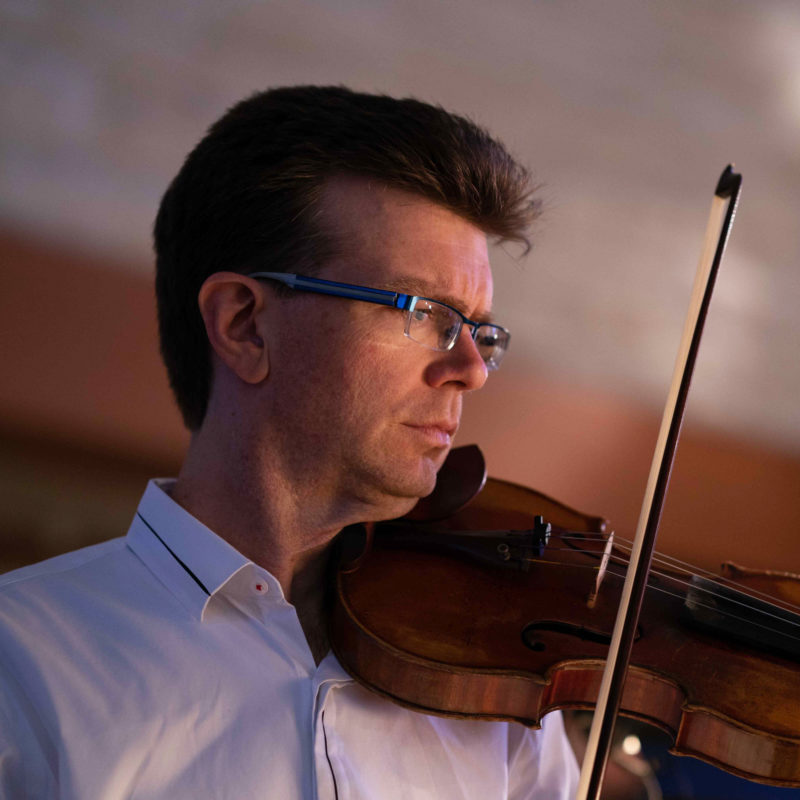 Continuing ROCO's Season 15 Unchambered series on Saturday, we next hand the reins over to concertmaster Scott St. John – for a program of "Morsels" revisiting his roots as a chamber musician, inspired by a very special summer in Vermont.
In this ROCOInsider, discover the works for string quartet you'll hear, and learn how his time at the Marlboro Music Festival spurred his course as a young musician, leading to a busy performing and teaching career!
ROCO audiences are most familiar with you as our concertmaster, leading the orchestra's violins – but your earliest roots lie in performing with smaller chamber ensembles, such as with string quartet. What drew you to chamber music as a student?
I would say I've been playing chamber music generally my whole life – it was just always the thing I naturally gravitated towards. Even while still in school, I had many chamber groups going that I enjoyed playing with, and I also did a fair bit of solo playing through Young Concert Artists, but felt that being primarily a soloist wasn't my ultimate calling. To me, playing chamber music was more interesting, fun, and social – and it has the most spontaneity, the most creative and in-the-moment feeling during performance.
In ROCO Unchambered, our musicians are able to express their unique musical personalities through curating their own programs – how did you approach this opportunity, given such creative freedom?
Given the overarching theme of Season 15, "Coming of Age", I started by considering – what were those moments for me, when I experienced something that really changed the course of my life and the way I feel about music – and I realized there really was a certain point, and this concert is all about that experience.
Right in the middle of my music studies, in about 1987 when I was at the Curtis Institute in Philadelphia – I had a chance to attend the Marlboro Music Festival in Vermont. It was unlike anything I'd ever seen before – first, because of its extreme devotion to chamber music as an art form, and also because about forty percent of the artists there were from Europe. You'd hear entire tables of conversation in German, or French, and for me, it was a very eye-opening experience, as I think at that point I had not fully realized and appreciated the larger European tradition of classical music yet.
In fact, one of the pieces on this program – Anton Webern's Five Movements – is one that we specifically scheduled to play while at Marlboro, so I could learn that style of the Second Viennese School, which was completely new to me then. (I remember vividly that one of my good friends there, a German violinist, was horrified that I had not heard of some of the composers considered as the greatest of German tradition!)
So basically a lot of the program is based on music I heard or played that summer, and how it affected me as a musician. And then some works are more "inspired by" the experience, rather than being performed there – such as Adolf Busch's Serenade, which is a tribute to the Marlboro Festival itself, as Busch was one of its founders.
The world premiere commission we'll hear, by composer Robert Maggio, also ties into this time period – how, and when, did you first meet?
Around that same time, when I was studying at Curtis in Philadelphia, Robert was studying composition at the University of Pennsylvania – and we were very randomly put together, as I was going to play a viola piece by him. I really liked the piece and really liked him, so that began a wonderful ongoing collaboration with him writing further works for me, including a piece for my Curtis recital and one for my New York debut.
In planning this program, it made sense to call up Rob and invite him to be part of this concert by writing a piece – and while reminiscing, we realized it had been 32 years since that first premiere! So that's where the title of the work comes from: "thirty-two summers".
How long ago did you begin to create this program and to work with Rob on the piece? Did you check in with each other while he was writing it?
The process began in the spring, so a bit over six months ago, and he worked on the piece over the summer. He did send me the first draft version, just to check if it felt right, and it was great – so I look forward to having us all here together to finally play it!
It's wonderful to already have that personal connection with a composer – as with everything ROCO does, it's all about relationships – and it's nice to know that there's this friend I know well, behind the act of writing the piece.
Speaking of friends and relationships, you'll be performing with three other ROCO musicians – violinist Min-Jeong Koh, violist Matt Dane, and cellist Richard Belcher – have you ever performed with them in a chamber setting before?
No! Not in this exact quartet setting. Although Min-Jeong was my student, many years ago! I'm definitely delighted to be playing with these three musicians who I greatly admire – I think it's going to be a fantastic collaboration.
This program has such variety, covering many different styles and time periods – will we get to hear, in a sense, how writing for string quartet has evolved?
One of the things I love about this program is that it does delve into a lot of different periods, styles, and influences. I especially really love Dvořák – his String Quartet No. 9 is one of my very favorite pieces, and we'll be playing his fun Polka. Mozart's quartet we're doing may be nicknamed the "Dissonant" – though that refers to just one movement, and we'll be playing the last movement, which is not dissonant at all!
Hindemith's 4th String Quartet was an amazing piece I did play at Marlboro that summer, and I feel that he's certainly one of those constantly underappreciated composers. Hindemith and Webern are two composers both from the Germanic school, but really representing different sides of how music was evolving then. Hindemith was more conservative and tonal, and Webern was one of the composers who followed Schoenberg's twelve-tone technique, writing more atonally – but both were extremely successful at what they do. They, along with Busch, are all actually of the same vintage (the 1910s and 20s), but you can hear in these works that we're at that juncture of when classical music started splitting into different styles.
Any favorite pieces you wish you could have included in the program, if you had more time?
If I had extra time, I would love to include a Charles Ives quartet! I think he's one of our most underappreciated American composers.  He was doing all these innovative and unusual things, even before Stravinsky, who always gets so much more credit.
Also – I'm interested in Hollywood composers who have written more serious music, such as Korngold, that's a program I would love to do. And of course, there's also Beethoven – I love playing his quartets, so wish I could have included one of those too.
Take us briefly through your own coming-of-age story as a violinist – how did you start playing the violin? When did you know you wanted to pursue a career as a professional musician?
I grew up in Canada, in Ontario, and started violin at age 3 in a Suzuki program. In the beginning, it was just something our parents thought we would enjoy – I say we, because my younger sister (violinist Lara St. John), joined me in everything when we were young! By the age of only about 8, we already had a lot of success doing music, and were quickly busy performing – we took advantage of any opportunities we could and it just took off from there.
Eventually, we became connected with a teacher from Cleveland who had heard us in Canada, and then we drove down for lessons regularly. Unlike a lot of Canadian players, we felt we really grew up in the states in some ways by studying down there – then I ended up later moving to Philadelphia to attend Curtis, where my sister studied later as well.
I think when you start an instrument so young, you don't necessarily feel like you made the choice yourself – I definitely had a few times in my life when I questioned if I really wanted to do this as a career. It took a bit of refocusing and realizing that although I could go the typical route of becoming a solo or concert violinist, it wasn't the way for me.
After completing my undergraduate studies at Curtis, I moved to New York City for performance opportunities, where I played a ton of chamber music. Then after ten years in New York, I moved back to Canada, to become a violin professor at the University of Toronto.
Eventually I ended up joining the St. Lawrence String Quartet, who were in residence in California at Stanford University, and spent a wonderful seven years performing and teaching there with them.
You're now at the Colburn School in Los Angeles, as Director of Chamber Music, and also return regularly to the Marlboro Music Festival as faculty – what do you love most about teaching young musicians?
I love the idea of trying to inspire a sense of joy, of musical appreciation, and of valuing that – over technical appreciation.
And of considering: what's the emotion we're conveying? How is that emotion affecting the audience you're playing for? And in a larger sense, how is music affecting all of us? What is our role as music citizens?
I find so often with students that it becomes all about following the rules, about practicing the notes – and I really try to help them focus on the bigger picture, of making music.
Hear Scott St. John, joined by his fellow ROCO musicians – in ROCO Unchambered: Morsels, Saturday, November 2, 2019, 5:00 pm, at MATCH. Tickets available online at MATCH, or at the door.